News archive
2022
2021
2020
2019
2018
2017
2016
2015
2014
2013
2012
2011
2010
2009
2008
2007
2006
2005
2004
2003
June 2004 News
Playing Member Match Fees
Posted on Wednesday 30th June 2004 by Colin Dawson
Your committee decided recently to introduce player match fees of £2 for senior members and £1 for junior members for all matches with effect from 1st July 2004. You may ask why this approach has been taken?
The Cricket Section does not gain any monetary value from player subscriptions as the funds are transferred to the Sports Club funds for maintenance of ground and premises (to put it very simplistically). If the Section has any projects that it wishes to fund then it has to raise the cash required internally through social events or other means. The project envisaged requires the "other means" approach.
The Cricket Section has suffered a loss of 1st XI players over the winter months but the committee wants the Cricket Section to continue playing at the highest possible standard available. With that in mind the committee is seeking out the possibility of acquiring an affordable professional for season 2005.
This is considered to be a very worthwhile project and your committee hopes that all members will respect the reasoning behind the move. Please ensure that you have the appropriate cash in your pockets for each match as the team captains have enough on their plates without having to chase for outstanding match fees.
Happy Brithday Marty!
Posted on Tuesday 22nd June 2004 by Fraser Murray
Taken from the Evening Times, Thursday 17th June 2004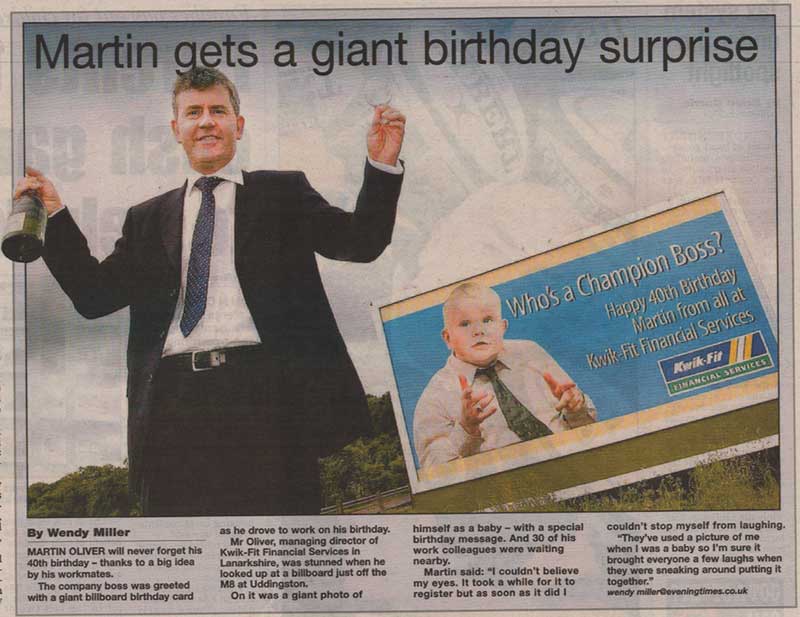 Text: Marty Oliver will never forget his 40th birthday - thanks to a big idea by his workmates.
The company boss was greeted with a gian billboard birthday card as he drove to work on his birthday.
Mr Oliver, managing director of Kwik-Fit Financial Services in Lanarkshire, was stunned when he looked up at a billboard just off the M8 at Uddingston.
On it was a giant photo of himself as a baby - with a special birthday message. And 30 of his work colleagues were waiting nearby.
Martin said: "I coulodn't believe my eyes. It took a while for it to register but as soon as it did I couldn't stop my self from laughing".
"They've used a picture of me when I was a baby so I'm sure it brought everyone a few laughs when they were sneaking around putting it together."
Gautham Hariharan Gets Call Up!
Posted on Wednesday 16th June 2004 by Colin Dawson
Gautham Hariharan today received his call up to the Scotland U18 squad following another terrific performance for the West District Select yesterday against the Star Club of India. He ripped the heart out of the Indian top order to finish with figures of 10 overs, 3 maidens, 3 for 23 whilst runs were being plundered at the other end. The District side eventually won the match by 30 runs.
This now puts him in the position of being a possible for the next Under 19 World Cup campaign against the top cricketing countries of the world and we wish him every success down at Durham next week against that county's U18's.
CricketScotland Story: Poonia, Hariharan called up for Colts. (external link)
JUNIOR UPDATE to 8th June
Posted on Wednesday 9th June 2004 by Colin Dawson
The juniors had a mixed bag of results over the weekend.
Both the U15's and U12's enjoyed victories away and at home to West of Scotland. I haven't seen the book for the U15's but I gather that Roddy for once did not contribute "mega runs" and it was an overall team effort that won them the match. This is a large and strong group with plenty of spirit currently enjoying pole position in the U15 League. Keep it up lads!
The U12's found it rather more difficult giving away 62 of West's total of 85 in "extras"! Two run outs in the first ten overs meant that whilst runs were ticking over there was always pressure to score more from the bat. The partnership between Sam Page (yet again) and Youssuf Hussain transformed the match with good calling, putting bat on ball and the taking of excellent quick singles. The required total was achieved with an over to spare.
Austin has already mentioned the U18 match against Ferguslie in his weekend report. The main problem was that Ferguslie bowled better overall than Accies and the field placings were better. Accies fielders were too close and there was a slip fielder for 17 of the 20 overs - Ferguslie didn't use one at all!!!! A comparison of the best three bowlers shows Accies bowled 12 overs for 42 whilst Ferguslie bowled 11 for only 18. Hoppers was best with 3 for 9 from 4. We need to learn to play "gapping" shots rather than pummel mid off all the time.
A young U13 team lost to East Kilbride last night (Tuesday) by 11 runs. Once again the inability to put bat on ball was the main problem (with the exception of Andy Smart and Scott Young but they gave catching practice instead!)
This Friday is a blank day due to the invasion of the U21 Rugby World Cup so the next Match is for the U18's next Monday at Hamilton Crescent against West. The U13 match against GHK scheduled for next Tuesday is postponed because of the Belfast trip but they have another fixture next Thursday against Helensburgh at home.
Weekend Update - 5/6th June 2004
Posted on Tuesday 8th June 2004 by Neil Dowers
On Saturday, Dumfries travelled up to Accies for a match which was scheduled to begin at 1PM, but was delayed by the school's victory over Heriots. When the match did begin, morale in the Accies line-up was low, the bowling was average, the fielding was awful and the heads began to sink lower as the Dumfries openers coasted to over 80-0 before Vedam Hariharan broke their partnership. After this breakthrough, Accies seemed to be reborn and Dumfries were rolled over for 153. V. Hariharan took 2-29, Andy Smith 2-24 and there was a 5-for for the great man, the hero and surely fantasy cricket's pick of the season: Nigel Campbell!
Accies chased the mediocre total set inside 42 overs, with Siddarth Hariharan batting in his second half century of the season (79*), and solid performances from Stuart Matthews and Fraser Murray. As most of you know, the 1XI can be fined for their errors during a game, and at 50p per fine, one is "maxed out" at £2.50. The "maxing out" rule served a certain first 1XI captain very well this Saturday, saving him at least £4! His crimes were:
Lateness
Not knowing what to do upon winning the toss
4 x Dropped catches
A one handed catch behind his head, having not run backwards quickly enough
2 x contact lens debacles
Diving through the stumps attempting a run out (+fine of the day)
Being caught out by an 11 year old (or younger) scorer, as a substitute fielder.
The 2XI continued their highly successful season with a victory away from home at Moorcroft, and the 3XI batted their allotted overs (for the second time this season - already more times than last season!) to get a losing draw against Crow Road.
On Sunday, and Accies "1XI" which more closely resembled a Development XI travelled to face Irvine in the SCU Trophy. Accies were comprehensively beaten, although a positive came from the match in the form of Thomas Fleming's excellent spell.
The U18s got their season underway on Monday night, and were beaten by Ferguslie after bowling very well to restrict the visitors to 96 runs from 20 overs - the batting was poor and wickets fell regularly as Accies notched up less than 75 in reply.
Rown Cup Game Rearranged
Posted on by Fraser Murray
The match v Poloc has been rearranged for the following Thursday (17th June) due to the U21 Rugby World Cup games at Anniesland the following day.