News archive
2022
2021
2020
2019
2018
2017
2016
2015
2014
2013
2012
2011
2010
2009
2008
2007
2006
2005
2004
2003
June 2009 News
Three Cities Cycle
Posted on Thursday 25th June 2009 by Fraser Murray
Cricket section member Alex Dowers poses in front of the Atomium in Brussels at the end of his 300 mile four day cycle which also took in London and Amsterdam.
Alex says the weather was very kind, especially the following wind on day one, and wishes to thank all those who have sponsored him to raise funds for the Young People's Unit, Dudhope House, Dundee.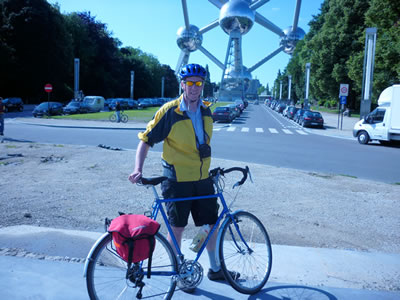 Summer Coaching Courses 2009
Posted on Monday 22nd June 2009 by Fraser Murray
The Glasgow Academy is running coaching courses during the Summer holidays for any young and enthusiastic cricketer. The courses will be organised and delivered by Mr Vedam Hariharan who is the cricket professional with the Academy during the summer and The Head coach at The Australian Sports Gateway's Cricket Academy in Brisbane.
Tonight's Senior Practice [Wednesday, 17 June]
Posted on Wednesday 17th June 2009 by Colin Dawson
I am advised that, in spite of today's rain, nets are ON tonight at Accies.
Cup Triumph against Irvine
Posted on Monday 8th June 2009 by Colin Dawson
Accies 1st XI, with only four members of Saturday's league side present, travelled to Irvine yesterday and came back with a three wicket win having chased down an Irvine total of 205. http://www.glasgowaccies.cc/teams/1xi/2009/fixtures/jun07_irvine_glasgow_accies
It seems that skipper Abhay Andar has found his miserly bowling touch again assisted by Messrs Kelso and Zai all of whom claimed two Irvine scalps [not a pretty sight at the best of times] whilst Ken Austin bagged a half-ton [plus 4 catches behing the stumps] assisted by Tanvir Singh and Himansu Mishra.
They now travel away to meet Strathmore on a date to be decided in the quarter final round. Watch this space.
Windyedge Record
Posted on by Colin Dawson
It can't be true? But it is! A 143 run opening partnership between Matthew Lewis [73*] and Chris Allen [58] secured a high scoring draw for Windyedge down at Gatehouse of Fleet on Saturday - see scorecard http://www.glasgowaccies.cc/teams/4xi/2009/fixtures/jun06_gatehouse_of_fleet_windyedge. By my calculations that's 16 points to Gatehouse and a very hard earned 9 points for Windyedge. Who says there's no place for the draw in the lower divisions? Well done lads.
Richard Andrew - "The quiet man"
Posted on Friday 5th June 2009 by Colin Dawson
It's easy not to have noticed unless, like me, you religiously check all the website team scores - Randy certainly didn't employ the Anniesland town crier for his hat-trick for the Sunday Dev XI last weekend against Sannox. Perhaps it's the salt air that did it but with figures of 5 balls bowled, 3 wickets for 0 runs [the first 2 balls must have been boring!] he promptly ended Sannox's innings and ensured an early return for the ferry trip back to the mainland. A repeat against Hillhead would be more than welcome.
Congrats Randy - an acceptance speech at the AGM in September is expected.