Anthony Creati Profile
Biography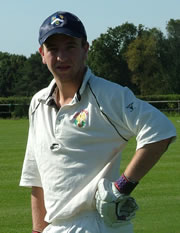 If we had a Euro for every time Creati told a story... it probably wouldn't matter that Andy lost his wallet (complete with kitty) in Paris. If we had a Euro for every time Creati augmented a story, saying, "yeah, but before that"... Shane Warne would be Accies' pro next year. If we had a Euro for every time one of these stories was worth listening to... well, we could possibly buy a half-pint of lager in one of Paris's more basic watering-holes.

This leads seamlessly on to Creati's other great love in life, second favourite only to storytelling - beer. Creati's go-to response to any situation - including having 15 minutes to find the correct platform in the sprawling Gare du Nord, with the final game of the tour at stake - was to suggest: "A few beers? We got time. We got time." Though this may occasionally have irked the tour organiser, the Dishonourable Judge Judy Campbell was impressed with the gusto with which Creati approached his drinking - and that's saying something.

Fresh from a successful season in Plymouth, Creati bowled a few short spells to bolster the Accies attack and succeeded in working 97% of the balls he faced to fine leg.

On tour, he picked up a bit of French with to charm the local ladies. "Voulez vous couchez avec moi?" was his go-to phrase, though he had to be reminded of it at least 12 times a night. When the resident translator tried to write it down for him, his response was a confused: "But... that says vow-lezz."

It is undeniable that spending a tour with Creati was an unforgettable experience for the Accies boys. We can only hope that he leaves for Australia with a few more stories with which to regale his mates back home. "I went on tour with Accies... but before that, I came over to the UK... but before that, I met Sam at school..."
Austin, September '08
Player record
1XI Debut: no page found
Last match: no page found
1XI career record
Batting

| M | I | NOs | R | 50s | 100s | Avg | HS | C | St | RO |
| --- | --- | --- | --- | --- | --- | --- | --- | --- | --- | --- |
| 2 | 2 | 1 | 16 | 0 | 0 | 16.00 | 16* | 0 | 0 | 0 |
Bowling

| B | R | W | 3W | 5W | Avg | ER | SR | Best |
| --- | --- | --- | --- | --- | --- | --- | --- | --- |
| 30 | 28 | 1 | 0 | 0 | 28.00 | 5.60 | 30.00 | 1-28 |
All teams
Latest images