Andrew Dodson Profile
Biography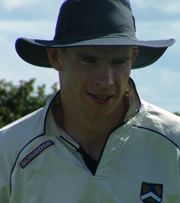 In 2008, Andy became the 48th captain of Glasgow Academicals Cricket Club, following in the hallowed footsteps of living legends Nigel Campbell, Colin Atkinson, Colin Dawson and Fraser Murray. Whether his reign will be as long as Nige's or as successful as Fritzy's remains to be seen. One thing, however, is certain; Andy accedes to the Accies captaincy with a proven track record as a middle-order batsman and an exceptional fielder.
Andy's talent was evident from his first innings - a chanceless and unbeaten 69 against the enemy from across the fence. He has continued to strike several more 50s, including a top score of 91 not out in a victory against Kilmarnock. As a fielder, he has amassed over 25 dismissals - many of them during a long period where he could only catch one-handed.
Andy is an innovative and inspirational leader on the pitch, and a committed club-man off the field. He is one of the most regular and successful participants in Stumpy and remains the only Accie ever to have run a race in full fancy dress.
When he's away from New Anniesland, Andy spends quality time in the company of his new wife Jenn, works for the Royal Bank of Scotland, studies part-time for his Masters in environmental protection (or something) and getting into long and complex debates about recycling and waste management with Ham and Mackoy. Many find it amusing that despite being Accies' own 'Silver Fox', Andy can use his student status to obtain a discount on his subs.
Austin, June '08
Player record
1XI Debut: no page found
Last match: no page found
1XI career record
Batting

| M | I | NOs | R | 50s | 100s | Avg | HS | C | St | RO |
| --- | --- | --- | --- | --- | --- | --- | --- | --- | --- | --- |
| 106 | 98 | 10 | 2388 | 16 | 0 | 27.13 | 91* | 39 | 0 | 7 |
Bowling

| B | R | W | 3W | 5W | Avg | ER | SR | Best |
| --- | --- | --- | --- | --- | --- | --- | --- | --- |
| 195 | 202 | 6 | 0 | 0 | 33.67 | 6.22 | 32.50 | 2-24 |
All teams
Latest images