Neil Dowers Profile
Biography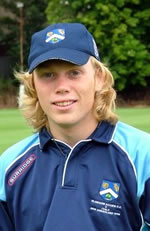 A youngster in a young side, Neil "Austin" Dowers made his first team debut in 2004 aged just 16.
Ever obdurate in defence, Neil has only just begun to come out of his shell and make an impact on first team cricket, although a Boycottly defence is fast earning him a reputation as a fine drawer of a cricket match. His top score and finest hour in 1XI cricket to date came in the season opener against GHK in 2006, when he struck a vital 62 to steer Accies clear of trouble and set up a 70 run victory.
His gap-year trip to Australia over the 2005-06 winter has helped him improve his attitude and compsure at the crease - this was best shown when he struck his first Accies century, an epic 145* for the 2XI against Vale of Leven.
Neil names his greatest cricketing moment as captaining the Glasgow Academy first team in its successful run-chase of 243 against Hutchy in 2005, personally scoring 85 of the requirement.
During the winter, Neil is likely to be spotted reading and discussing quality literature - in between Harry Potter readings - strenuously avoiding the gym and sleeping, probably more than is healthy for a human being.
Austin, January '06; updated July '06.
Player record
1XI Debut: no page found
Last match: no page found
1XI career record
Batting

| M | I | NOs | R | 50s | 100s | Avg | HS | C | St | RO |
| --- | --- | --- | --- | --- | --- | --- | --- | --- | --- | --- |
| 134 | 123 | 20 | 2250 | 9 | 0 | 21.84 | 75 | 40 | 1 | 9 |
Bowling

| B | R | W | 3W | 5W | Avg | ER | SR | Best |
| --- | --- | --- | --- | --- | --- | --- | --- | --- |
| 30 | 19 | 3 | 0 | 0 | 6.33 | 3.80 | 10.00 | 2-10 |
All teams
Latest images