Fraser Murray Profile
Biography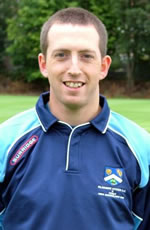 A former first team captain, Fraser "Fritzy" Murray is still a vital cog in the running of all things Accies.

He made his debut for the 1XI a decade ago, making him one of the more seasoned veterans in a young Accies side. Worryingly for him, at times only Nige prevents him from being the oldest player in the first team.

Between 2003-06 he scored almost 1800 runs at 37 in what may well live on as the golden era of his career. He is also one of the most regular contributors off the pitch. His quiz nights are the stuff of legend, he designed and maintains the club website and is the keeper of the points for fantasy cricket - he claims, though, that this is not why he wins annually.

Fritzy's finest hour as captain came in leading a side which had three years earlier lain in disarray to a comprehensive WDCU title and promotion to the SNCL. Unfortunately, Fritzy's reign ended in heartbreak (and hamstring- and finger-break) as his fragile muscles and papadum fingers forced him to watch from the sidelines as the side was relegated.

Fritzy finally passed 100 in a Saturday game against St. Michael's on a beautiful Accies deck in 2006. His 101* came in just 101 balls and was described in the St. Mike's match report as "dominating". His conversion rate of 15:1 50s to 100s puts him right down there with Stephen Fleming as one of the game's biggest bottlers. Nevertheless he still has time on his side in his battle to disprove Hari's assessment of this innings as a 'once in a lifetime' achievement.

Fritzy is a club man through and through - so much so that he has lived within two minutes' walk of New Anniesland all his life.

In the off-season, Fritzy can be found in the Jackie Husband Stand at Firhill, feigning work at Strathclyde Uni, moaning about the stock in Morrisons at Anniesland Cross or honing his considerable talents in his kitchen.
Austin, January '06; updated July '08.
Player record
1XI Debut: no page found
Last match: no page found
1XI career record
Batting

| M | I | NOs | R | 50s | 100s | Avg | HS | C | St | RO |
| --- | --- | --- | --- | --- | --- | --- | --- | --- | --- | --- |
| 260 | 232 | 35 | 4722 | 24 | 1 | 23.96 | 101* | 80 | 2 | 12 |
Bowling

| B | R | W | 3W | 5W | Avg | ER | SR | Best |
| --- | --- | --- | --- | --- | --- | --- | --- | --- |
| 25 | 34 | 1 | 0 | 0 | 34.00 | 8.16 | 25.00 | 1-18 |
All teams
Latest images