Kashif Rashid Profile
Biography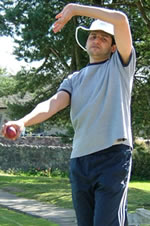 "Kash" Rashid joined Accies in the winter of 2005. Though he was eccentric, often difficult to comprehend and sometimes downright odd, one thing was certain from the very start; the man could bowl.
His space-cadet attitude in the field and his long, ambling run up served only to lull batsmen into a false sense of security; his quick arm, bounce and uncanny ability to seam a cricket ball almost at will did for a great number of batsmen during his three years in Scotland.
Like anyone involved, Kash will never forget the season of 2006. Indeed, Kash's bowling was one of the driving forces behind Accies surge to the WDCU Championship. He began as he meant to go on, grabbing a couple of cheap, top-order wickets on debut at GHK, before claiming a three-for in Dumfries in his second game.
Kash finished that year with 30 wickets and five three-fors, along with the Accies bowler of the season award. Amongst his 30 scalps were an unreasonable number of professionals, as time and again the hired guns fired blanks against Kash's unique style. Kash even induced some false shots and a dismissal from Sanjay Raul, who hasn't mistimed a drive since.
2007 was a frustrating year for Kash as lady luck turned against Kash and his clubmates. Chances hit the deck, lbws were bewilderingly denied and flase-strokes went unpunished to see Kash take only five wickets, despite conceding under 3.5 per over.
In 2008, Kash was back to his best, taking 19 wickets at 21, and even smashing some important 6s down the order. He leaves Accies having taken 54 wickets and nine three-fors at an average of 25, with the excellent economy rate of 3.28.

Any number of anecdotes about Kash could be used to round off this profile on a light note. Perhaps his habit of lying underneath the covers on rainy afternoons philosophising sums him up? Perhaps the fact that in his first season he habitually turned up at least 45 minutes late and had to be picked up from a roundabout on the south side for every home game?
Probably most fitting is the story of his arrival at West for a pre-season friendly in 2007. With 15 minutes before the start of play, the skipper, Fritzy, received a phone call from Kash, asking where the ground was and professing to be on the wrong side of the river. As Fritzy spluttered in fury into the phone and tried frantically to arrange a lift, a grinning Kash emerged through the gates of Hamilton Crescent, much to the amusement of everyone but his captain.
Kash toasted his team-mates after his last game as, "like a family to him". It is safe to say none at Accies will ever forget him and he will always be welcomed back with open arms. We at Accies wish him every success as he builds a new family down in Norwich, where he has taken up a new job.
Austin, August '08
Player record
1XI Debut: no page found
Last match: no page found
1XI career record
Batting

| M | I | NOs | R | 50s | 100s | Avg | HS | C | St | RO |
| --- | --- | --- | --- | --- | --- | --- | --- | --- | --- | --- |
| 50 | 32 | 18 | 67 | 0 | 0 | 4.78 | 14* | 4 | 0 | 2 |
Bowling

| B | R | W | 3W | 5W | Avg | ER | SR | Best |
| --- | --- | --- | --- | --- | --- | --- | --- | --- |
| 2565 | 1421 | 56 | 9 | 0 | 25.38 | 3.32 | 45.80 | 4-41 |
All teams
Latest images