Euan Sheridan Profile
Biography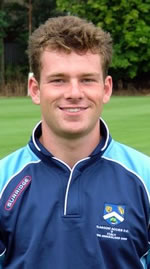 Team-mate Ed Hunter describes Sheri as "the most competitive human being" he's ever met. You only need to see him make a few full-length, studs-out sliding tackles in a friendly kick-about or throwing himself at full pace against the walls on a squash court to realise that Ed's assessment rings true for anyone who's ever met Sheri.
Sheri is a talented young all-rounder who boasts more than 250 runs and 10 wickets for the 1XI since his debut aged only 13.
Once a quick left-arm bowling all-rounder, a horrendous knee injury which has required 2 operations, has forced him to re-model himself - with great success - as a hard-hitting batting all-rounder who throws down slow left-arm darts.
Shez has forced his way into the middle-order swing section of the West District U18s and deservedly so; when he gets going, no corner of the ground is safe and no boundary too long. He is another youngster who boasts a 2XI century, having carried his bat for a fine 119* against GHK/Strathclyde in 2005.
A gym rat and a ladies' man, if not at Accies, Sheri is to be found either pumping iron or setting the dancefloor ablaze in one of Glasgow's clubs.
Austin, July '06
Player record
1XI Debut: Glasgow Accies v Dumfries (17/08/02)
Last match: Glasgow Accies v Albert Park (03/08/19)
1XI career record
Batting

| M | I | NOs | R | 50s | 100s | Avg | HS | C | St | RO |
| --- | --- | --- | --- | --- | --- | --- | --- | --- | --- | --- |
| 146 | 138 | 20 | 2647 | 14 | 0 | 22.43 | 95* | 65 | 0 | 4 |
Bowling

| B | R | W | 3W | 5W | Avg | ER | SR | Best |
| --- | --- | --- | --- | --- | --- | --- | --- | --- |
| 3854 | 2412 | 154 | 18 | 5 | 15.66 | 3.76 | 25.03 | 6-32 |
All teams
Latest images