Abhay Andar Profile
Biography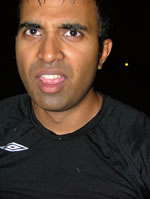 Abhay Andar joined Glasgow Accies in 2005; another fish plucked from the brimming pond of Glasgow University CC. Randy first recognised his abundant talent with the ball and since that date, Abhay has backed up Randy's faith. Mixing sharp, late swing with the new ball and precision and finger spin with the old ball has paid huge dividends over the last few seasons.
In 2007, named 2XI captain, he led from the front as his side dominated WDCU Division 3. He took 21 wickets in just 8 games with two five-fors before being called up to the first team to have a crack at the SNCL, where his highlight was 10-7-15-0 despite good, aggressive batting from Edinburgh CC.
Abhay continued in the 1XI in 2008 with magnificent results. 34 wickets in 13 games, with five three- and two five-wicket hauls at an amazing average of just over 12 have proven his 1XI pedigree. He led the attack with aplomb and was the club's most prolific bowler of the year with room to spare.
As well as a talented opening bowler, Abhay is the club's resident bongo man - as evidenced by his enthusiastic support during the 2006 Rowan Cup final. Abhay has been an asset to Accies in his time here and will be sorely missed should his studies or research take him elsewhere.
Austin, August '08
Player record
1XI Debut: no page found
Last match: no page found
1XI career record
Batting

| M | I | NOs | R | 50s | 100s | Avg | HS | C | St | RO |
| --- | --- | --- | --- | --- | --- | --- | --- | --- | --- | --- |
| 40 | 35 | 16 | 243 | 1 | 0 | 12.78 | 50* | 10 | 0 | 1 |
Bowling

| B | R | W | 3W | 5W | Avg | ER | SR | Best |
| --- | --- | --- | --- | --- | --- | --- | --- | --- |
| 1816 | 998 | 54 | 7 | 2 | 18.48 | 3.30 | 33.63 | 5-17 |
All teams
Latest images