Nigel Campbell Profile
Biography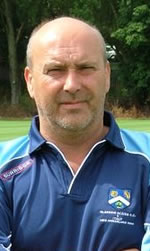 Accies veteran and Homer Simpson lookalike Nigel Campbell is one of the wiley silver foxes of WDCU cricket.
Legend dictates that Nige captained the Accies first-team for anywhere between 20 years and three-quarters of a century. The actual number of seasons is uncertain though, although historians claim it was closer to a 10-year stint, most believe that the captaincy lasted most of the 1900s.
Now in the twilight of his glorious career and with the feather in his hat of captaining Accies to Division 1 victory in 2000, Nigel has taken 133 wickets at 19.36. Like a fine wine, Nigel has improved with age - 4 of his 5 career 5-wicket halls came in the past 3 seasons. His success is even more remarkable considering that the young Nigel Campbell bowled promising medium pace but had to remodel his cricket after a horrific knee-injury sustained playing rugby.
Nigel is one of the club's and the league's great characters, known for his short fuse and unorthodox methods, such as banning smiling during a fielding session after the batsmen had failed to post a decent total. It transpires that it was good captaincy, as the team went on to win.
During his long-lived success with the ball, one thing has eluded Nigel all these years - a first team 50. Oh well, there's always next season...
Austin, January '06
Player record
1XI Debut: no page found
Last match: no page found
1XI career record
Batting

| M | I | NOs | R | 50s | 100s | Avg | HS | C | St | RO |
| --- | --- | --- | --- | --- | --- | --- | --- | --- | --- | --- |
| 262 | 153 | 66 | 887 | 2 | 0 | 10.19 | 53* | 59 | 0 | 2 |
Bowling

| B | R | W | 3W | 5W | Avg | ER | SR | Best |
| --- | --- | --- | --- | --- | --- | --- | --- | --- |
| 7620 | 4734 | 237 | 30 | 6 | 19.97 | 3.73 | 32.15 | 6-65 |
All teams
Latest images