Corrie Dick Profile
Biography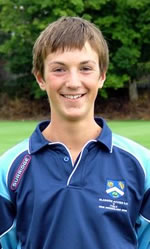 Corrie Dick may only be 16, but you wouldn't think so when you hear his list of contributions to Accies. 52 senior matches for the club, along with 32 at junior level, have seen him pick up 106 wickets with his big turning leggies. If only he had a googly! He also currently captains the midweek team, enthusiastically and successfully, though his match reports leave a little (a lot) to be desired.
Not only is he dedicated, but Coz is also one of the most talented youngsters at the club. Combine his raw talent as a spin-bowler with an insurmountable work ethic and fierce determination and it seems certain that he will achieve great things in Accies colours.
Corrie is also a gifted musician. He sat his advanced higher in music during 5th year and all the while his band, "The Young Guns", have been assaulting eardrums at various high-profile venues around the city.
Corrie is as appreciated at Accies as his huge contribution to club life, good attitude and laid-back manner would warrant. All the seniors eagerly await the day he turns 18 and can participate in stumpy properly…yeah.
Austin, August '07
Player record
U15 XI Debut: no page found
Last match: no page found
U15 XI career record
Batting

| M | I | NOs | R | 50s | 100s | Avg | HS | C | St | RO |
| --- | --- | --- | --- | --- | --- | --- | --- | --- | --- | --- |
| 14 | 13 | 3 | 243 | 0 | 0 | 24.30 | 41* | 2 | 0 | 6 |
Bowling

| B | R | W | 3W | 5W | Avg | ER | SR | Best |
| --- | --- | --- | --- | --- | --- | --- | --- | --- |
| 264 | 187 | 25 | 6 | 0 | 7.48 | 4.25 | 10.56 | 4-18 |
All teams
Latest images