Ed Hunter Profile
Biography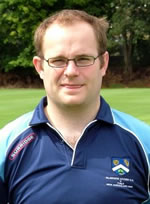 Ed is amongst Accies' considerable set of Glasgow University alumni.
He, like Andy Smith, Andy Dodson and Al Miller and many others played alongside Fritzy for the University Cricket Club and was promptly recruited when he arrived back in Glasgow after graduation. He made his debut shortly after finishing travelling around the world on a gap-year.
Ed played his first cricket at school at Stewart's Melville and thereafter, National League cricket with SMRH, which he gave up in favour of a move to study in Glasgow.
He is now qualifying as a lawyer, working horrendous hours which sometimes keep him from training. One young Accie was heard to remark: "Who are you? You look like this guy who plays for us on Saturdays, but he doesn't train..." when spotting Ed on a Wednesday night. The response was characteristically blunt but with some long words in it.
Ed took the gauntlets for the first team in 2005, claiming 10 snares and 4 more victims stumped. He adopted the Glichrist role for most of the season, opening the batting and managing one 50, against Titwood in a fantastic stand with Sid Hariharan, and to wear one spectacularly between the eyes and have to retire hurt.
Ed is famed for his little strops behind the sticks, especially when the ball is thrown at his ankles. It was an accident, Ed. Honest.
Austin, January '06
Player record
1XI Debut: no page found
Last match: no page found
1XI career record
Batting

| M | I | NOs | R | 50s | 100s | Avg | HS | C | St | RO |
| --- | --- | --- | --- | --- | --- | --- | --- | --- | --- | --- |
| 70 | 67 | 2 | 1171 | 4 | 0 | 18.01 | 59 | 50 | 13 | 1 |
All teams
Latest images