Sam McVitty Profile
Biography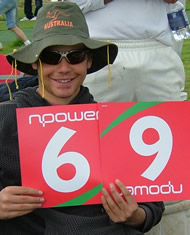 Sam joined Accies in 2008 as the OA. Throughout his time at the club, debate raged as to whether this stood for Overseas Amateur or Overseas Alcoholic. The consensus amongst the committee was the latter.
Sam took his position of OA very seriously. With the help of the 1st and 2nd team skippers, he invented the top-shelf challenge - a grueling marathon involving any five drinks from the top-shelf in the upstairs bar, followed by getting knocked back at a club. After a rough start to the season, Sam proved his bona fide drinking credentials when he hit his first half-century on a day when Magners were offering a case of cider to anyone who achieved the feat.
Joking aside, Sam proved a committed team-mate and a good friend to all those he rubbed shoulders with at Accies. Though much mocked for regular Friday nights out, his determination and will to win were evident from the moment he stepped onto the cricket oval. He fielded sharply and solidly at point and hit the ball powerfully and with flair when called upon to bat.
Sam was never one to turn down a night out, but his record on the dance-floor was about the same as his record with the bat; moments of glory, but a few silly errors bringing about early dismissals.
Accies was sorry to see Sam go at the end of season 2008, although Fritzy may have been glad of the opportunity of uninterrupted sleep on a Saturday night. The club wishes him all the very best as he moves on to University with the eventual goal of becoming a PE teacher.
Austin, August '08
Player record
1XI Debut: no page found
Last match: no page found
1XI career record
Batting

| M | I | NOs | R | 50s | 100s | Avg | HS | C | St | RO |
| --- | --- | --- | --- | --- | --- | --- | --- | --- | --- | --- |
| 16 | 14 | 0 | 217 | 1 | 0 | 15.50 | 67 | 8 | 0 | 0 |
Bowling

| B | R | W | 3W | 5W | Avg | ER | SR | Best |
| --- | --- | --- | --- | --- | --- | --- | --- | --- |
| 30 | 33 | 1 | 0 | 0 | 33.00 | 6.60 | 30.00 | 1-23 |
All teams
Latest images