Stuart Murray Profile
Biography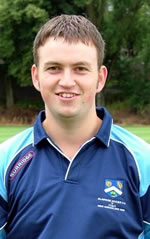 Stuart Murray, or "Ham", is best known as the sharp mind behind the cutting captions that appear on the photographs on the Accies website. Judging by the lip he gives everyone else in these captions, you'd expect Ham to be 6ft 4 and a Brad Pitt lookalike. You'd be disappointed. You know what they say about people in glass houses, Ham? Well, maybe not. At least you're cute and cuddly, a bit like a Teddy-Bear...
On the cricket pitch, Ham has in recent years been most often notable in his absence, through his commitment to Shinty. When he is playing, he is a metronomic off-spinner who aspires one day to emulate Nigel Campbell. As a batsman, he has an incredible ability to play from on top of the square-leg umpire's toes.
He has now severed his shinty links in order to take up the position of Accies' Development XI skipper. His reputation has sadly been tarnished recently by allegations of fantasy cricket match-fixing. Investigations are ongoing.
His cricketing claim to fame is a fine spell on his one and only district U19 appearance, where he bowled 10 overs and took two top order wickets for 33 runs against North. Oh, and he once hit 44 for the Development XI - this may not sound a huge achievement, but his other 13 innings have yielded 18 runs.
Expect Ham to build on his impressive Development bowling record of 17 wickets at 21 in the coming season... and don't be too surprised if he chips away at that batting average of 6 either.
Austin, May '07
Player record
2XI Debut: Anniesland v Hughenden (02/06/02)
Last match: Hughenden v Anniesland (27/07/13)
2XI career record
Batting

| M | I | NOs | R | 50s | 100s | Avg | HS | C | St | RO |
| --- | --- | --- | --- | --- | --- | --- | --- | --- | --- | --- |
| 41 | 23 | 4 | 48 | 0 | 0 | 2.52 | 17 | 3 | 0 | 1 |
Bowling

| B | R | W | 3W | 5W | Avg | ER | SR | Best |
| --- | --- | --- | --- | --- | --- | --- | --- | --- |
| 1730 | 1230 | 54 | 9 | 0 | 22.78 | 4.27 | 32.04 | 4-9 |
All teams
Latest images