Daniel Scott Profile
Biography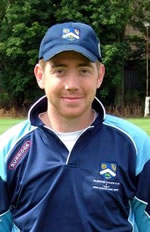 Ask Accies' 2006-07 overseas amateur where he's from and he'll tell you: "Ballarat." Then stare at him blankly for a few seconds and he'll explain: "It's near Melbourne, mate."

For the Australian winters of 2006-07, Dan Scott has swapped sun for cloud, a t-shirt for a jacket and Napoleans/Sebastopol CC (Ballarat Cricket Association) for Glasgow Accies.

Staying with skipper Fritzy and enjoying a balanced diet of canned soup, 'Jagerbombs'and the occasional mega-breakfast, Dan adapted to both life and cricket in Scotland quickly.

No one who watched Dan bat at his best will ever forget it. A gifted strokeplayer who never looked rushed at the crease, he pillaged 784 runs at over 60 in 2006, including his first two career centuries. His chanceless 137* agaisnt GHK on one of the hottest days in the summer was of a sheer quality since unsurpassed, save perhaps by his 104* in the playoff final, where he hit the last ball over the sight-screen for 6. There is no doubt that Accies would have been far less successful in 2006 without Dan's able assistance.

Not only were his runs valuable, but his contributions off the pitch were admirable as well. He has looked after the U18s almost every Monday, helped build and rebuild (at least twice) the net cage and propped up the bar whenever he's had a spare moment.

Dan returned for a second tour of duty in 2007 but took a few rough decisions as his confidence waned and he was unable to be as influential as he had been the season before. Despite this, Dan will be fondly remembered by all at the club, who certainly hope they haven't heard the last of the boy from Ballarat.
Austin, July '06; updated July '08.
Player record
1XI Debut: no page found
Last match: no page found
1XI career record
Batting

| M | I | NOs | R | 50s | 100s | Avg | HS | C | St | RO |
| --- | --- | --- | --- | --- | --- | --- | --- | --- | --- | --- |
| 35 | 34 | 6 | 891 | 5 | 2 | 31.82 | 137* | 9 | 0 | 2 |
Bowling

| B | R | W | 3W | 5W | Avg | ER | SR | Best |
| --- | --- | --- | --- | --- | --- | --- | --- | --- |
| 36 | 42 | 1 | 0 | 0 | 42.00 | 7.00 | 36.00 | 1-32 |
All teams
Latest images