Vedam Hariharan Profile
Biography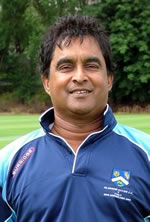 "Hari" is one of the most talented players or coaches ever to grace Scottish cricket.
His right-arm medium-pace bowling, which earned him 114 wickets at 32 on placid Indian wickets, proved a class above his WDCU opponents, who were often unable to get close enough to his big, both-way swinging deliveries to edge them. As a consequence, he took fewer wickets than he might have against better batsmen, but always at a low economy rate. Incedibly, in his 11 seasons to-date at Accies, 9 times his season economy rate has been below 2.5 runs-per-over, and twice below 2.
His 352 career wickets have cost a shade under 12 runs apiece.
Having loyally served the club for over a decade, Hari has traded swing bowling for the more sedate art of off-spin, but still frequently dismantles teams with his intelligent, accurate and fiercely passionate spells.
All year round, Hari is never away from cricket, spending his winters shuttling between Brisbane and Bangalore where he is the head coach at cricket academies.
Accies owes much to Hari, not only as a player, but as one of the few ECB Level 3 coaches in Scotland. Through his work with the Glasgow Academy, Hari has trained and recruited countless youngsters for the club. His work with the junior section has aided in the development of such integral first-team talent as captain Fraser Murray and Richard Andrew, as well as fringe youngsters Roddy Kelso, Euan Sheridan and Neil Dowers.
Every club should have a Hari; luckily for Accies, no other club in Scotland does.
Austin, January '06
Player record
1XI Debut: no page found
Last match: no page found
1XI career record
Batting

| M | I | NOs | R | 50s | 100s | Avg | HS | C | St | RO |
| --- | --- | --- | --- | --- | --- | --- | --- | --- | --- | --- |
| 171 | 103 | 34 | 1527 | 6 | 1 | 22.13 | 110* | 46 | 0 | 0 |
Bowling

| B | R | W | 3W | 5W | Avg | ER | SR | Best |
| --- | --- | --- | --- | --- | --- | --- | --- | --- |
| 12028 | 4528 | 397 | 60 | 18 | 11.41 | 2.26 | 30.30 | 7-51 |
All teams
Latest images